Today I would like to share an old favorite. This is the wedding invitation I made for a dear friend a few years ago.
Her colors matched some retired CTMH cardstock, in the colors of Ocean, Watermelon, and Orange. I used the Ocean paper for the invitations.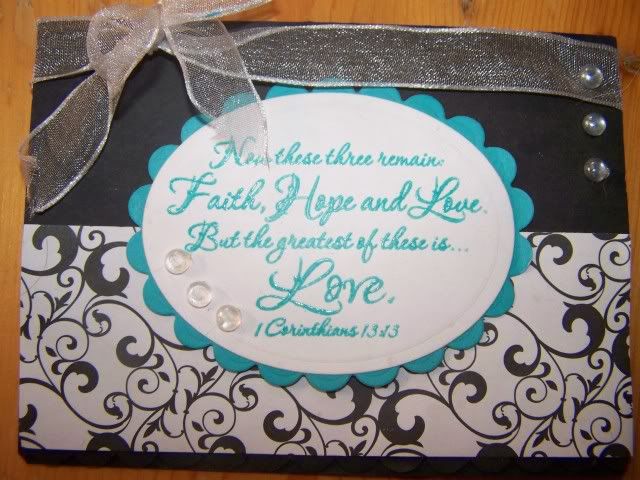 The stamp set was a Verve stamp set, I believe.
The verse on the front of the card was heat embossed. In order to get the Ocean colored embossed look, I first inked the stamp with Ocean ink, then again with Versamark ink,stamped, then added clear embossing powder to the top. Voila! Custom colored embossing!This technique did stain my Versamark ink, so be aware of that. The inside of the card was also hand embossed. I ordered a custom stamp from Simon Stamps, with the information about the wedding. The top portion of the inside had an RSVP card printed on Ocean cardstock, and attached with silver photo corners. These were postcard sized, and included a stamp and addres label on the front for ease of mailling.
You can see some of the embossed information as well as the RSVP card in this photo.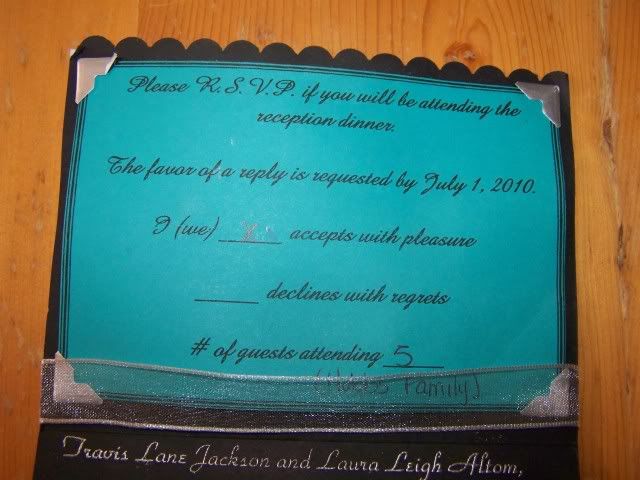 The wedding was beautiful, and I am so glad to have been given the chance to make custom invitations for a good friend. Thanks for visiting the blog today!